The Giancarlo Zema Design Group (GZDG) have signed a collaboration agreement with MIEEG for the construction of innovative self-sufficient housing units, thanks to the combined use of photovoltaic energy and hydrogen power.

The Giancarlo Zema Design Group (GZDG) is an innovative architecture and design studio located in Rome, specialized in smart eco-sustainable projects, semi-submerged architectural structures, floating homes, yachts and interior design. The WaterNest project, designed by architect Giancarlo Zema, is born to respond to the growing needs of the eco-tourism market of floating housing units, completely self-sufficient from an energy point of view.

MIEEG is a highly innovative startup founded by Angelo Minotti, who is developing a miniaturized high-power electric generator, fuelled by hydrogen and characterized by a revolutionary combustion chamber. The MIEEG patent, filed in nearly 50 countries, including Italy, China and Hong Kong, answers to the need to extend the autonomy of the battery systems.


The MIEEG-GZDG collaboration aims to develop the "WaterNest and WaterNest Village – Ecological Floating Resort" project, the first floating eco-resort on the market being energetically completely autonomous. The Eco-sustainable floating suite WaterNest, designed by Giancarlo Zema, is a 100 m² residential unit, 12 m in diameter and 4 m high, made entirely of recycled laminated timber and recycled aluminum hull. Balconies are conveniently located on the sides and thanks to the large windows, allowing enjoyment of fascinating views over the water. Bathroom and kitchen skylights are located on the wooden roof, as well as 60sqm amorphous photovoltaic panels capable of generating 4 kWp which are used for the internal needs of the residential unit.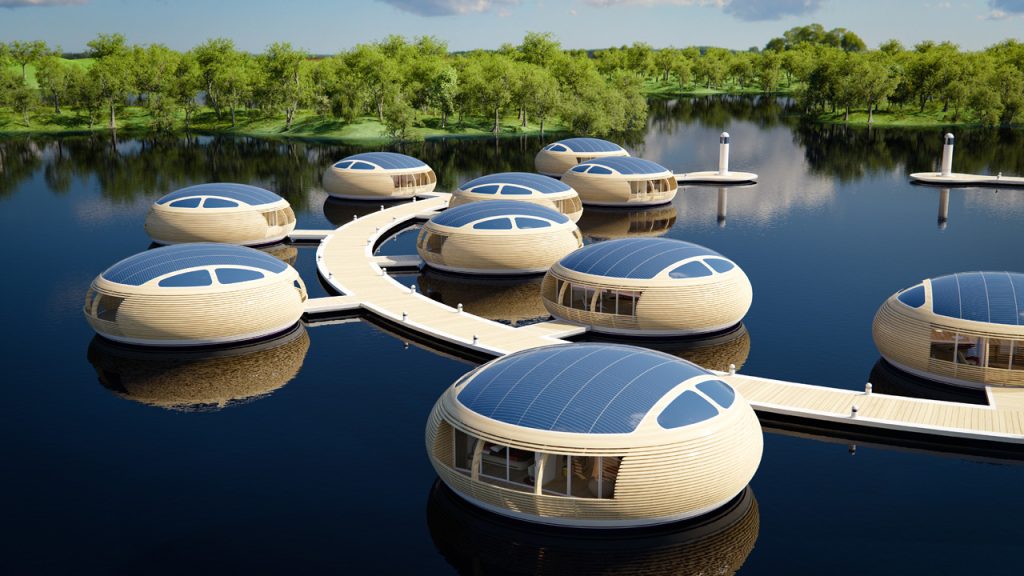 The interior of WaterNest can include a living room, dining area, bedroom, kitchen and bathroom, or other configurations according to the different housing or working needs. It is perfect like an ecological house, office, lounge bar, restaurant, shop or exhibition floating space. The selected furnishings in the EcoFloLife catalog are top design, eco-friendly and elegant, facing the most demanding contemporary needs.
WaterNest can be positioned along river courses, lakes, bays, atolls and sea areas with calm waters. The use of materials and sustainable production systems make this floating house recyclable up to as much as 98%. In addition, thanks to a sophisticated system of internal natural micro-ventilation and air conditioning, it is classified as a low-consumption residential habitat.
WaterNest is the ideal solution for those wishing to live independently, exclusively and in complete harmony with nature.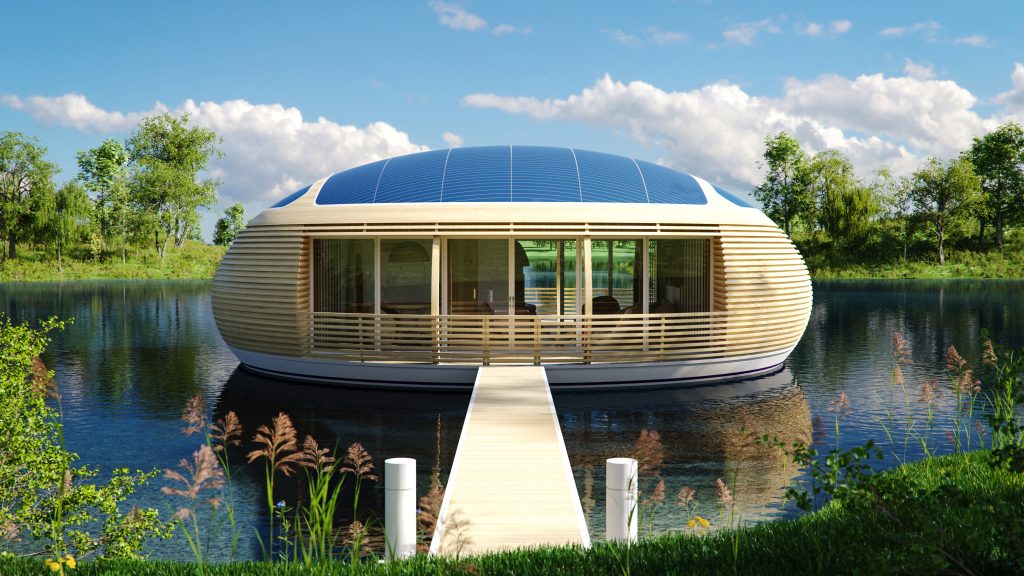 WaterNest units can be configured according to the different housing or working needs. Several units can be installed with a radial or linear configuration on lakes, bays, atolls and sea areas with calm waters to create an eco-resort with floating villages.
The WaterNest Village is the ideal solution for hotel groups and hospitality investors working in the field of eco-tourism who wish to make a truly innovative floating resort and environmentally friendly way to live in style independently, exclusively and in complete harmony with nature.

The startup MIEEG will make available its technology, patented in 2017, to develop an innovative, miniaturized and high-power powertrain, specific for the new platforms that Giancarlo Zema Design Group is developing.

Consider that values around 100kWe, which match the request of thirty apartments, are of the order of a 0.75l bottle of water. Furthermore, it can be fed with both hydrocarbons and hydrogen from wasted water, using oxygen or air as an oxidizer. All this allows the system to be tailored for all those applications which require electricity (EV cars, flying systems, ships, exoskeletons, buildings, etc.).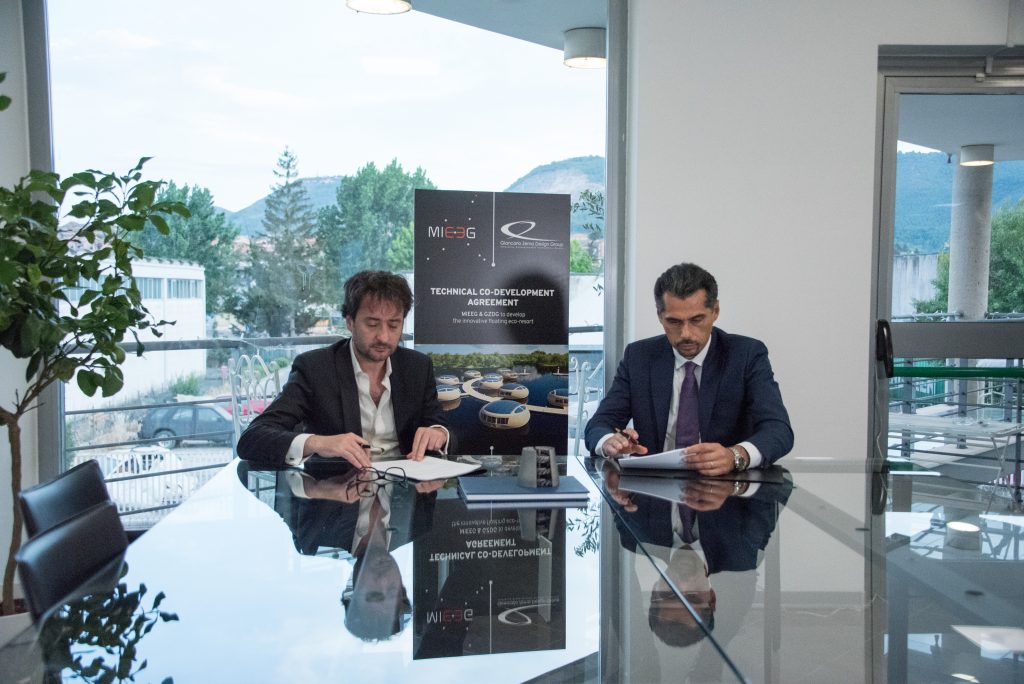 In this case, "the fascinating floating house WaterNest by GZDG" integrates the innovative MIEEG microgenerator, and its hydrogen tank, in addition to a part of the original battery pack, so as to obtain significantly greater operating autonomy than the current system. of full-electric lithium batteries. "MIEEG is the solution I have been looking for a long time – says architect Giancarlo Zema, President of the GZDG -. Unfortunately, the market offers only artisanal solutions. MIEEG aims to bridge this gap, allowing us both to limit the use of batteries and integrating hydrogen for our electrical systems ".

This project aims to reduce the battery pack from about 900kg to about 80-100kg, using the weight saved to charge hydrogen, allowing more autonomy in the home. A further advantage is reflected in environmental sustainability, given that our homes will basically produce as a waste element, simple water vapor.

"We are very satisfied with the agreement reached with Giancarlo Zema Design Group (GZDG) – explains Angelo Minotti, CEO and founder of MIEEG -. this project is exciting. Together we will be able to develop a system capable of both extending the autonomy of the WaterNest floating homes and reducing the environmental impact due to the massive presence of batteries. All this will make them more efficient than just systems with photovoltaic panels and battery packs, also raising the level of reuse of dispersed resources, such as wastewater of each home. The MIEEG system, using hydrogen, exploiting 3D printing for the construction of the components, and being specifically designed for this system, is characterized by very high efficiency, minimizing its environmental impact, thus contributing substantially to the fight against pollution. , increasingly important in the residential sector".